The second annual meeting "BRIDGE for Cities – Belt and Road Initiative: Developing Green Economies for Cities" took place in Vienna International Centre from 26 to 28 September 2017. The event was organized by the United Nations Industrial Development Organization (UNIDO) and the Finance Centre for South-South Cooperation (FCSSC). During these days 640 participants from 136 cities located in 67 countries participants visited an exhibition and conference, which were dedicated to the urban industrial solutions and business opportunities. Companies from all over the world presented their products, solutions, applications, methodologies, projects and latest developments in the area of smart cities and urban-industrial development including Alibaba Group (Hangzhou City Brain), The Bosch Group, a car sharing mobility concept DriveNow, the Institute of Ecological Urban Development ("eco-cities" concept), a bike sharing service Mobike, bicycle-sharing platform Ofo, a global network of businesses, governments and international organizations OiER, Siemens.
Pharos Navigator ® (PharosN) by GOLEM IMS GMBH was presented at the urban industrial solutions section as a unified digital transformation platform for Smart Cities and Industry 4.0 offering cutting-edge innovation framework for diverse applications in the long-lasting partnership between the company and UNIDO.
Smart City Monitor solution running on PharosN ICT platform introduced a new unique powerful tool for monitoring and management of sustainability of complex cyber-physical systems such as smart metropolitan areas and smart regions, circular economy, industrial and urban and transportation assets, environment. Its capacity to improve transparency of complex interlinked processes and compliance with international standards of quality of life draw attention of many event participants who visited the booth.
The visitors had demonstrations of online application of this advanced solution for a city with 60,000 inhabitants that enables a digital transformation of big data into the rich set of information services and controls and provides simple holistic, integrated vision of multiple processes in real time with capacity for drill-down to important causes of events and information details.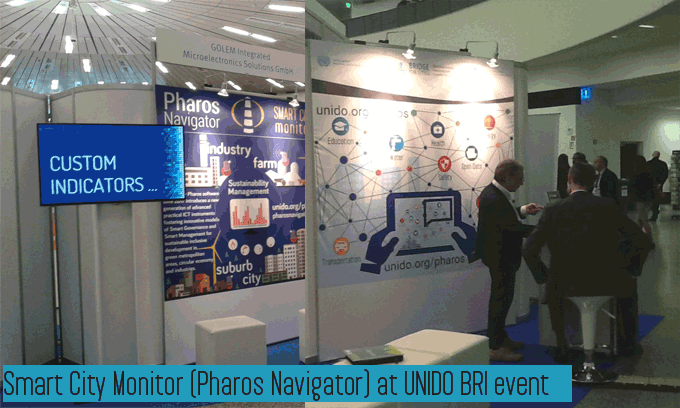 The innovation eliminates many non-productive activities in the municipalities related to data entry and reporting providing modern customized tools for monitoring and control and integrated management of the large number of energy, water, waste, transportation, education and many other urban objects.
Pharos Navigator (http://unido.org/pharos) offers new generation of ICT tools that are easy to use and affordable for implementing digital transformation solutions in mid and small size cities and communities including those in the developing countries empowering administrations, utility providers and citizens to support smart local governance in the cities and regions as well as continuous improvement of quality of life of communities. The novel platform is implemented in several European cities as of 2017.